Here's my review of Steven Spielberg's *THE POST*.
mit dem fehlenden letzten Satz in der abgeddruckten Version in den "Dolomiten".
and two additional quots from Edward Snowden & Daniel Ellsberg from this double interview.
---
Plädoyer für eine kritische Presse
"The Post" ist ein nostalgischer Zeigefinger für die Ära Trump. Im Rückspiegel auf das Jahr 1971 wird die Pressefreiheit gefeiert, die im Jahr 2018 erneut unter Beschuss kommt. Damals ging es um die Pentagon Papers und den Vietnam-Krieg und die folgenschweren Lügen mehrerer US-Präsidenten darüber. Der Beamte Daniel Ellsberg, gespielt von Matthew Rhys ("The Americans"), kopierte heimlich tausende Seiten des geheimen Berichts und gab sie an die führenden Zeitungen des Landes weiter. Heute ist er ein gefeierter Held der Meinungsfreiheit. 40 Jahre später sollte Edward Snowden das gleiche machen – und dafür gnadenlos verfolgt und als Verräter gebrandmarkt werden. Die beiden berühmtesten Whistleblower gaben übrigens kürzlich ein gemeinsames Interview im britischen Guardian anlässlich der Premiere des Films.
Als Richard Nixon (mit Original-Stimme im Film zu hören) die New York Times gerichtlich an der Publikation hindern will, hängt es an der kleinen Washington Post, die Pressefreiheit hochzuhalten. Für Chefredakteur Ben Bradlee (Tom Hanks) fällt die Entscheidung noch leicht. Der prototypische Workaholic-Journalist weiß, dass dieser Scoop für die Öffentlichkeit wichtig ist. Doch die mutige Verlegerin Kay Graham (Meryl Streep) muss sich kurz vor dem Börsengang auch um die wirtschaftliche Existenz ihrer Zeitung Sorgen machen. All die alten Männer in grauen Anzügen um sie herum raten ihr ab. Doch diese Geschichte wird vom Trotz getragen, sich der Macht zu widersetzen. Das politische Gewissen ist für diese Frau wichtiger als alle finanziellen Überlegungen und auch persönliche Befindlichkeiten dürfen keine Ausrede sein, die Wahrheit nicht zu publizieren. Wenn sogar die Hochzeit der Präsidenten-Tochter professionell behandelt werden soll – oder gar nicht –  sind wir in der allzu oft längst vergangenen Utopie des verantwortungsbewussten, investigativen Journalismus ohne Feel-Good-Stories und Gratis-Werbung für Politiker.
Regisseur Steven Spielberg beweist erneut, dass er neben seinen Blockbuster-Erfolgen auch ein Vertreter eines aufrechten, liberalen Hollywoods ist. Der Regisseur von "Schindler's Liste" und zuletzt auch "Lincoln" inszeniert diese an sich trockene Zeitungs-Geschichte als Enthüllungs-Thriller. Die Dynamik, die er einer simplen Konfrontation verleiht, ist überaus gekonnt. Und wenn man akzeptiert, dass der Film als Plädoyer mit Zwischentönen gegen die Politiker und korrupten Journalisten der Gegenwart gemeint ist, wirkt auch der Pathos wie er soll.
Und ein Plädoyer ist "The Post" auf jeden Fall: für eine kompromisslos kritische Presse, die sich nicht mit der Politik gemein macht, sondern ihre Aufgabe wahrnimmt, den Mächtigen immer auf die Finger zu klopfen – das ist auch hierzulande in Südtirol eine Erinnerung wert. ■
Daniel Ellsberg: "The movie is incredibly timely because we are dealing with a president who lies as he breathes, unapologetically. Also, a president who is contemptuous of the press. Nixon called the press the enemy. And Trump's people say it is the opposition party, which is of course the enemy."
Edward Snowden "While I was weighing up whether to come forward or not – and this was an agonising process because it was certainly life-changing – I watched that documentary. Dan's example, hearing the arguments from someone who has lived through this, it helps prepare someone to make that jump themselves."
---
[first published in "Die Dolomiten", 9.2.2018]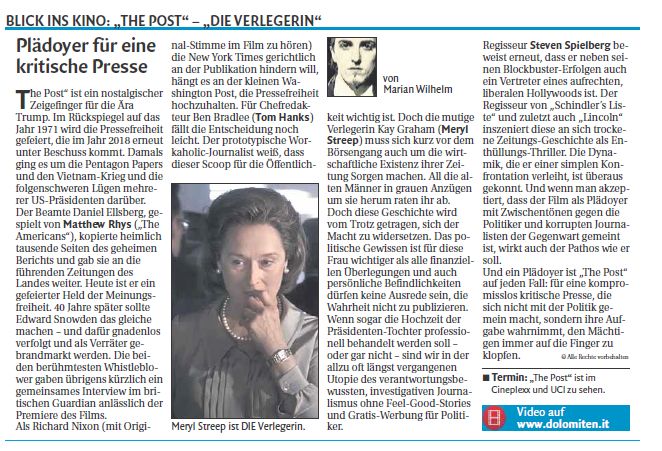 2018-02-09-Film-Review-THE-POST-Marian-Wilhelm